This is our Christmas Card photo for 2010. Tom isn't really thrilled with it (he doesn't like Thomas's eyes) but I think the photographer,
Angela Maggard
, did a terrific job. The picture came from our
cousins photo shoot
in October.
I'm currently working on putting that blog post into a photobook for my children and nieces this Christmas.
I had my LAST CLASS for the semester last night. I also turned in my LAST PAPER for the semester when I got home from class. I have a final next Thursday. I'm crazy. Instead of feeling elated when I hit the "submit" button for my paper at midnight I felt. . .you won't believe it because I don't. . .empty. I mentioned this to Tom this morning and he said "I believe it". Does he know me better than I know myself?
I subbed every day that we had school this week. Monday, 6th grade math. Tuesday was a
snow day
. Wednesday I was my daughter's third grade teacher. Thursday I was back in the same 6th grade math classroom. Today I was a freshman social studies teacher at the high school. I love/hate what I do. I love, love, love teaching. . .I hate the inconsistency of subbing, not knowing the kids, being in different schools all the time. I don't like babysitting like I did today. It frustrates me to give busy work and expect goodness. Really, isn't there a better way to educate our children?
I noticed when I went in to create this post that it's my 100th post. I think that's supposed to be a big deal :) I very much enjoy blogging but have not had the time to do it these past months. School really kicked my butt. A 3-4 page paper every week. A 2-page report on Tennessee's Race to the Top. Three 2-pg book reports. A 10-pg research paper (which I'm pretty sure wasn't read). The first three chapters of my graduate theses (27 pages). That was read but didn't get a grade proportional to the effort put in. And now a final on Thursday. Plus I've (blessedly) worked/subbed almost every day for the last two months. Whew!
My kids have four days of school left. But bad weather is predicted Sunday so we'll see.
I still have my job at the YMCA and they have given me a lot of grace these last months to finish up my school work. But now I need to get back on that horse. . .they are expecting 2 crafts/week for the older kids. I enjoy that part of the job -- and have found some good ideas! I'll share links when I have another few minutes.
The kids are home! The *best* role I have is MOTHER. God has richly blessed me!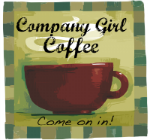 I am linking up to
Company Girls
today. Head on over to visit if you can!