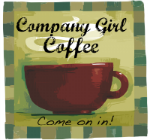 Morning! It's 5:50 a.m. where I am but have a busy day ahead so thought I'd get started with my post now, although the link isn't even up yet :) I have had little time to blog this week and I certainly missed out on visiting with all the Company Girls last weekend. . .you would think with being "snowed in" there would be MORE time but alas, in my life that means less. My kids are home and that is my full-time, never-ending job. The days have been aimless (which I don't like) but now that today they finally go back to school -- it's been a week! -- I am sorry to see our time go. We've developed a pattern around here. . .sort of. . .and. . .well. . .I love them. The upside is I am subbing in their school today so we'll essentially be together most of the day anyway!
I'm sipping on some of "my"
hot chocolate
and reviewing some of what we've done. . .I worked a couple of shifts at the YMCA and that got us out of the house. Of course when there are snow days the Y is overly busy in the childcare area so they call in extra hands. . .again, it's a great job because I can take the kids with me. . .it gets us out of the house and gives my kids some social time outside of each other. The kids spent two days shoveling the "ice/slush" of the driveway. . .too much shade for the sun to get all of it.
There were friends over and a snowball fight. . .
I got nailed during this one while taking pictures so headed back inside. . .
The girls and I made some
cookie suckers
and I finally finished up some wall art that I
started last month
.
It's not what I imagined exactly but I'll hang it for awhile. It needs something between the two rows. . .I'm thinking about it. Any ideas? The blue you see is the color we're thinking about painting our bedroom. . .after seeing it on the canvas I am extra-sure it's too overwhelming for me for the entire room. It's a little softer IRL but all the same our bedroom is fairly big and it's just too much. Maybe the bathroom though. When Tom and Bonnie were doing
paint colors
a couple weeks ago they picked out another color for the bathroom. . .maybe we'll just flip-flop since that was a more neutral color.
This
idea
was on my list to do this week. . .so I'm keeping it bookmarked for another day.
I hope you all have a blessed and productive day. I'm off to get ready for school. . .get the kiddies up and going. . .then hopefully a workout after school today. I got to go a couple times this week and don't know why I don't do it more. . .I always feel so GOOD afterward!!! Some girlfriends have invited me over to scrapbook tonight. . .but since I was gone last night (to school) I'm not sure I'll leave Tom again tonight. That decision is 13 hours away. . .
And, Rachel Anne, I've kept up with all the
Small Things
this week!!! Yahoo!!!! Congrats on the January winners too. . .there was a lot there to complete. And to my friends and family out there who see my "Company Coffee" (almost) each week, hop over to
Home Sanctuary
to join a great community. . .or just to visit with other Company Girls this week :)