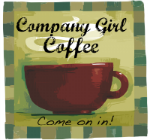 Good Morning
Company Girls
!!! I'm so glad to join you again this week :) I missed last week (and almost all of this week) due to
NO INTERNET
. UGH! We don't have a television service -- although our small town has a PBS station that saved me with toddlers, and we don't have a newspaper delivered b/c we don't have time to read it, and then we were "snowed" in for two days. . .man, it's been a l.o.n.g. 2 weeks. . .although they went to school 3 days last week, none of them were full days -- 2 were delays and 1 was an early dismissal. This week we've been out 4 days. . .but. . .the kids go back to school today -- one hour late, but I'll take it!!! We need to get back on schedule around here. Counting MLK Day and President's Day we have missed 19 days of school in addition to 20+ hours in delays and early dismissals in 2010. It's not all complaints though. . .I really, really love my children and we are blessed with a home large enough that we are not tripping over one another at all times (although for some reason they mostly do insist on being in the same room at the same time, even if they are arguing. . .)
Here are some of the things that kept us busy:
Yesterday friends were over for a few hours. . .they have a new baby and Margaret was in HEAVEN. I snapped this picture to save and show her when she is a mommy someday. . .she's a natural!
There was reading, and television (yep, PBS!), jumping on the trampoline, and Wii, and decorating Valentine's Day boxes (they did get to go to school for their party last Friday). . .
I also had lots of time to cook this week so I thought I'd share some tried-and-true (by me!) recipes and also some projects I found around blogland that I'd like to tackle. I know
Rachel Anne
did menus last week and hope it's o.k. to still post some recipes for you to browse. . .as well as a few other things. . .
I made these
PW meatballs
this week -- I served them with egg noodles that I tossed with butter and parm cheese with a side of broccoli. Definitely a "keeper".
This
stew
was FABULOUS and yes, as easy as he says.
I was browsing through my March issue of
Real Simple
one day this week and came across 10 Ideas for Chicken Cutlets (pg 196-197) and immediately made Baked Chicken Parmesan. . .so easy, so good (leave your e-mail in the comments if you want the recipe).
And this week we also had some Chicken Burritos from my Southern Living Busy Moms Weeknight Favorites (again, leave a comment and e-mail if you want the recipe). I used Rotel diced tomatoes for the first time in my life -- they made *all* the difference. I'd also never tried refrigerated mild white cheese dip. . .a new "staple" I may keep around for hungry snack-y kids.
Thomas baked a cake on his own this week. . .the first time he's done it without my direct supervision. It was a tad difficult to watch him spray the pan to death but he's gotta learn in a safe environment and I deem that to be in an environment free of criticism. . .it wasn't hurting anything and the best way to learn is by doing.
And on the project then there is my
dining room table
. A few thoughts on this. It seems
Layla has the same table
(except the leaves) and this is what she did: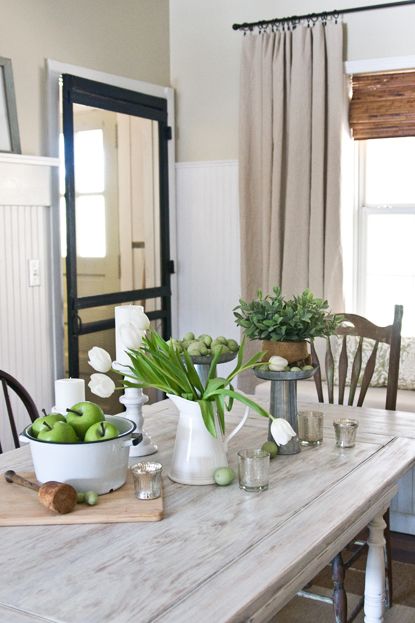 It's not really my style. The table (or at least mine) is too "heavy" for this treatment. But it got me thinking about maybe blackwashing (is that a term?) the table instead. I also saw a piece at my dentist's office this week and her mother had refinished it by dry brushing it (it was black and more the look I was going for). Then, as I was browsing blogs, catching up this morning, I saw this
coffee table
at
Thrifty Decor Chick
.
See? It has the grooves on top like my table. . .I think this might be the answer. . .I'll have to come back to this when it gets warmer and I can get the table into the garage. I'd love your opinions though.
This
egg project is a good idea but I don't know if I'd have the patience? Need to get some twine. . .
And I want to make these
Chocolate Carmel Oatmeal Bars
!
Oh, and we did get back online yesterday and I want to tell you how I told my
Dude I appreciate him.
. .it's a great idea that I found online somewhere (will link if I find it). . .but it is to write him love notes in the shower. The blogger used bath crayons, but we just have a plain old "regular" shower so I use dry erase markers. I like to leave notes there for him to find in the morning. . .last night when I came home from school he had our bed already made up (I washed and dried the sheets but hadn't gotten to the last step yet. . .) but forgot to mention to him that I appreciated him doing that before he fell asleep. So I wrote him a quick note on the shower wall. . .dry erase markers work well on the mirror too. . .
Can you tell I've been deprived of conversation this week?!? I'll stop here. . .if you're even still with me :) I hope to
visit all of you this weekend
!!! Hope it's a sun-shine-y beautiful weekend for you, whether the sun is out or not :)