I have one smart child and three that *like* the cold and snow :)
Here's Smart Margaret. . .cuddled on a cold, snowy day in her warm robe and another blanket, clutching her hot chocolate and vegging in front of PBS. For the record I am, right this minute, sitting in that vacant bed right next to her typing this up. . .I'm smart too. There's a feather mattress on it and lots of blankets. . .I haven't moved since Tom left for work almost three hours ago. Pathetic? Maybe. Just enjoying a "real" snow day -- ha!
Here are the other three, heading down the street looking for a place to go sledding:
Unbeknownst to me, they were all walking in only layers of socks!!! Well, Frederick had some slippers on but still. . .I promise they have shoes and some even have boots!!! Ugh. Their excuse was "we were jumping on the trampoline and we didn't think about it when we left to go walk 1/2 mile down the street". Really?!? Do I dare mention their ages?!? Oh well. . .Thomas, the bright 13-yr-old, came home 1/2 hour later looking for some shoes because his toes were frozen. Hmmmm. . .file this under "natural consequences". . .best teaching tool EVER.
Oh, proof they were on the trampoline? Yea, I took these pictures out of the upstairs window. . .you think I'd actually, voluntarily, open a door and go outside in snow if there is a warm room I can hunker down in instead?
And yes, that *is* Margaret out there (in the pink hat) for her 10 brief minutes of insanity. She was back in lickity-split.
Just 13 days ago, on New Years Eve, I asked Thomas to take this picture. . .
Jeanette's always hot but I didn't have a jacket on, or long pants. . .and it was December 31st!!! We've had two "snow days" since then -- ha! Hope to be back out there
soon
:)
On the agenda this four-day weekend? I don't know. . .catch up on everything that is NOT getting done, being gone all day, every day I guess. Enjoy the time we have together. Be productive and balance it with time to just
be
.
Happy weekend everyone!!! And yes, for all who've asked, my kids *love* being back in school and they have wonderful teachers who are really inspiring them. We are blessed.
Love,
Jenni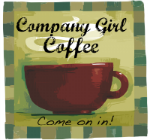 ETA: Linking up with
Company Girls over at Home Sanctuary
this cold Friday! Head
over
if you would like to meet some new friends. . .it's my kind of party -- the more the merrier :)