We have had a quiet week. Sunday we drove the girls 3 hours (and Fred and Nancy drove 3 hours) so we could give them a week together. We had a quick bite to eat, a quick picture, and then another three hours back home.
Wow, this is an excellent picture. And spur-of-the-moment too. . .the best kind, I guess :)
Then Tuesday afternoon, we allowed the boys to go to Fall Nature Camp at
Cedar Lake
for a few days.
Of course Thomas has been there numerous times and Frederick did Day Camp with his friend this year, but this is the first time Frederick stayed over night.
They actually aren't staying in cabins, like they do in the summer, but where the girls stay. . .which is called the Bird Cage. It's more like a dorm building
with indoor plumbing and everything!!
Not roughing it too much in there :)
I dropped them off after work on Tuesday and the rest of the day was on-and-off rain but probably do-able for the campers. Wednesday was a GORGEOUS day. . .I know they were outside having fun the entire day!!! Yesterday (Thursday) was a really rainy, yucky, day. I'm sure the staff did a great job of keeping things going, though, and with 43 campers how can you be bored??? Today has dawned bright and beautiful and I have to leave to pick them up in about an hour (the camp is about 20-25 minutes away -- not too far). . .I'm very excited to see them.
Ugh. A sideways picture again. Of course his big brother is too cool to have his picture taken in front of his dorm area (Mockingbird -- see why they call it the Bird Cage?). . .but that's o.k. Knowing they are together these days but will do things with their own groups is a good thing.
Tom and I didn't do a whole lot. . .I worked a lot. . .he took a half-day off to work on my van. . .
Yea, I like the look :) I took a picture mid-way through my pantry organization:
Ack! Sideways again. Oh well. . .the panty is also the laundry and I got *one* itsy-bitsy project done. . .hanging these tags on the girls' laundry baskets. . .tags they painted probably 2 years ago. Ugh. Don't know where the boy's tags are?? I came across them and was able to go get the stuff and just DO IT.
Oh, and I finished this:
This was a trial color/coat last Thursday. . .this morning it looks like this:
I'm really happy with it. It blends into the house, which I like. We could just never settle on a "color" and Margaret suggested "brown" to match the house. . .genius! (No, no fall stuff out yet. . .still hanging on to summer just a little bit. . .it's warm enough to make it work, for me at least. I hate ripping out summer flowers that still look good. O.K., maybe this weekend/week. . .)
Trial picture after 1st coat to make sure it was going to "work"
Well. . .time to shower and get my boys! The Bells and the girls will be here later this afternoon. . .they're coming down to put the boat up for the winter and there is a lot of soccer on the calendar too! The kids around here have been on Fall Break so everything is kicking back into gear this weekend. . .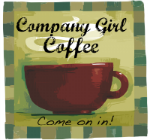 I'm linking up with
Company Girl Coffee
today. . .check them out if you have some time. . .I always enjoy catching up with them week-to-week. . .
Blessings,
Jenni