Another snow day. And although no one but Thomas is still in public school, snow days still matter to me because I have to work at the Y on those days. It was too icy to get out first thing so I was an hour late for my shift. That one hour did make a difference, I think, because the sun was out doing its job. . .it was still very icy getting to the main highway but I felt safer then I would have an hour prior.
We got home about 12:45 today, made lunch and started on school work. Frederick was done at 3:30, Marie and 3:35, Thomas at 4, and Margaret is still whining about the one last sentence or two she needs to write. Sigh.
Ten minutes ago it was
And my house and children are snapped in time:
Marie intent on her DS. Library books strewn about. A puzzle open and started on the extra table in here. Blankets not folded (it is *so* cold in this house!!!!). Bottom-left corner. . .that would be the Christmas tree still sitting in here.
Yea, that desk would be ALL my fault. . .need to get that area straightened up. And the clothes sitting to the left? My Goodwill bag. . .it's been there too long. It's good to take pictures. . .sometimes I see things that I overlook IRL.
This was before the tears. . .and she's since written an excellent little prayer for that last question and the books are put away -- but not really much else.
Frederick, too, is glued to his DS. They are a big deal when we get to the end of the school week -- no video games and no television during the week so Friday afternoons they break this stuff out!
Snack basket still out. Graham cracker box Margaret got out this morning still out. Ugh.
Thomas is making a
peanutbutter pie
for our next-door neighbors. We're taking dinner over to them tonight and this is his contribution. Looks like his mac & cheese pot from lunch is still on the stove. Bet there's still mac & cheese in it too :)
I guess this part of the counter would be my fault too. Mail, my lunchbox from this morning, audio recordings I was supposed to take back to the library yesterday, copying Tom was supposed to take to work with him today. . .
But this next picture. . .well. . .it has been the kids' "free play" station all week:
They have painted and painted. And have a lot of good work to show for it. But time to get that mess cleaned up and put away too!
While they do that, I can do this:
I don't know that my clean laundry pile has ever been this bad? EVERY time I start, I'm called away. EVERY time. Or it's nighttime and just too darn cold to be in there (NOT kidding!).
Doesn't look much like we're expecting company tomorrow, does it?
Well, Tom's now home and just took the food next door. I'll change out of my uniform (yep, no time to do that yet!) and get to work around here. Busy weekend of basketball, grandparents, and church! Hope to visit some
Company Girls
too :)
Please
click on over
to see what is going on with some of them if you have a few free minutes this cold, January weekend.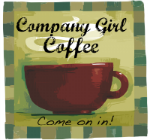 ~ Jenni