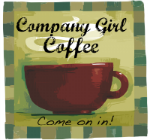 Good Afternoon
Company Girls
! Today I have a diet Coke next to me and am only going to give myself 15 minutes to sit down and "talk". . .hopefully later this weekend I'll be around to catch up with all of you too :) Thank you,
Anna
, for helping me get the Company Girl Coffee button up on my post! Now I feel a little better. . .I like to learn something new every day if I can.
The kids FINALLY went back to school today. . .one hour late. I think we were the only county in our state that was still off yesterday. . .it's frustrating for me but more from an educational standpoint. I am lucky enough to have a life right now that is flexible enough to roll with multiple early dismissals/delays and days off. . .I can't imagine being a working mom, trying to fill in all these details each time school is called off unexpectedly or when a child becomes ill. I am truly blessed.
I haven't been able to keep up with the daily challenges this week :( I have read them each day and printed out what I needed to to do them but "life" really got in the way. The kids and I really just ran, ran, ran and when we were home I was doing things with them mainly. So. . .I'm sad that I don't have a schedule to post and be proud of today but *hopefully* this weekend.
I started school again yesterday. I am working on a Master's Degree in Instructional Leadership. This could lead to an administrative position someday but my intent right now is just to get the degree because it's always been a dream of mine. I took three classes last semester and am registered for three this semester too. The start has been a bit rocky. . .I showed up for class last night on campus just to find out that it was a "Monday" night. . .who knew? Then I got home and signed into one of my online classes and I'm a little concerned that it's not graduate-level even though I went back and looked at my registration and I clearly signed up for a graduate-level (and paid for!) a graduate-level class. . .my adviser still hasn't gotten back to me so I'm kind of in limbo there too. And BOOKS! My. . .when I found my one class wasn't meeting last night I walked over to the bookstore to purchase a book I know I need for another class and it was $122!!!!! For ONE book. . .and it was the last one there. Sigh. And then I signed up for a state test yesterday that I need to take in March. . .$130. Man, this is EXPENSIVE. My husband is so good and so supportive of my efforts and I appreciate him beyond measure for allowing me to spend our family's money on this. It has opened our eyes for our children though. . .I know my parents weren't prepared for the expense of college and in the end my sister, brother, and I paid for much of it because they just couldn't afford it. I always thought that it wasn't "too bad" to help out so had fully intended just to "help" the kids. . .but the prices of an education now are out of control. I remember I commuted to school and paid $600+ for a full quarter and books, total, were probably $200 or so. It was difficult because I was probably only making $4-$5/hr but it was still affordable. I don't think you could pay for everything on minimum wage anymore.
Well, that's it for now. I'm sure my 15 minutes are up :) I have a date tonight with Tom. . .the YMCA has Parent's Night Out once a month from 5-9 p.m. so the deal is that I pay for that and he pays for the date. . .yea!!! (O.K., we have "shared" money -- don't start running for Dave Ramsey -- but we have our own "budgets" so-to-speak.) He has told me he's going to take me to Target -- that's a BIG deal around here. . .about an hour away -- yea! So. . .I need to get my minimum maintenance done before the kids get home and then cleaned up. . .I've had a busy morning of tennis, a few hours working at the Y, and my weekly Sam's Club shopping.
I have to add. . .it's 57 degrees here today!!!! As much as I complain about the cold. . .I *love* to brag when it's beautiful like this :)